This Software is published on Download.cnet.com -- the first software download site in the world.
In this category, Easiersoft Free Barcode Generator has the most downloads:
Windows - Business Software - Inventory Software
KEY DETAILS OF FREE BARCODE GENERATOR:
Print bulk various types barcode labels with laser inkjet printer, add barcode to Excel, Word. Download Now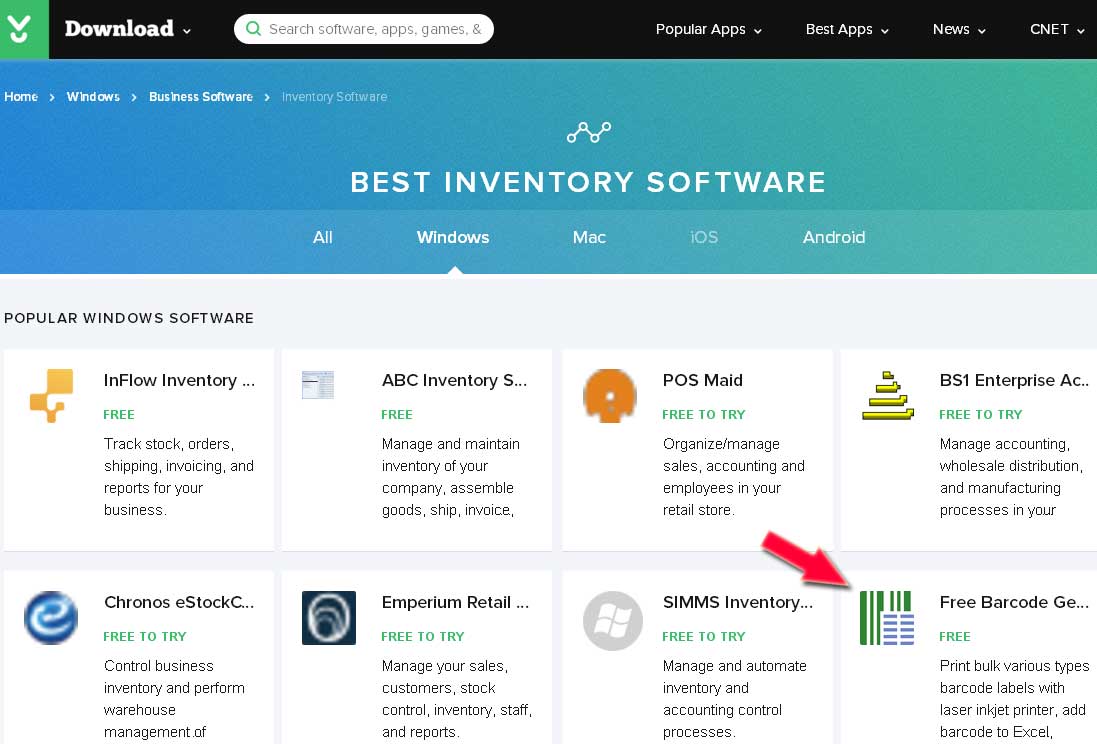 | | |
| --- | --- |
| KEY DETAILS: | >>> EasierSoft Free Barcode Generator is a wieldy and permanent free bar code manufacture and printing software. |
| | >>> It has a unique function: you can print barcode label on ordinary A4 paper with a laser or inkjet printer for office use, the effect will be better if the sticky label paper such as Avery label paper are applied, and it also support the professional barcode printer. Supports large batch of bar code labels' input and print. |
| | >>> It requires you to input the contents of the hundreds of thousands of labels at one time, instead of one by one, you can first enter the barcode data in Excel, or automatic generate a sequence of barcode numbers, then, bar code labels are printed with batches. |
| | >>> The 2nd unique function of Barcode Generator is that the complex barcode label can be manufactured with the cooperative work between Barcode Generator and MS Excel or Word. A lot of contents are contained in some bar code labels such as shipping label, including shipping address, supplier information, the company's LOGO, etc. |
| | >>> In the past, the professional bar code label design software are used to design and manufacture this kind of labels, but these software are expensive and complex. |
| | >>> Now, Barcode Generator provides you a free and simple solution - designing and manufacturing this kind of bar code labels with MS Excel or Word. Because most of the people are skillful at applying Excel or Word, so it is not necessary to learn those complex and professional bar code label design software. |
| | >>> Excel and Word are feasible, and its document format editing and printing function are very strong. The complex and exquisite label template can be manufactured with Excel or Word. With Barcode Generator, both expensive bar code printer and professional label design software are unnecessary. |
| | >>> Barcode Generator almost supports all 1D and 2D bar code formats, such as EAN-13, UPC,GS1, Code 39, Code 128, ISBN, Data Matrix and QR Code. |
| | |
| --- | --- |
| USER REVIEWS: | >>> Low cost bulk barcode labels printing software. |
| | >>> This barcode label printing software is suitable for print barcode labels in Avery label or other label paper, it is a matrix barcode labels printing program support all barcode printer and scanner, E.g to print barcode to Avery 5160 label paper, there 3*10 labels in one sheet, so in this barcode printing software, just need few steps: (1) Enter 30 barcode numbers in the data input field, or enter the barcode data in Excel and then import to this barcode program. (2) Specify the barcode type, barcode size, barcode font, etc. (3) Specify the paper as "Letter" which same as Avery label paper. (4) Set to print 3 X 10 labels. |
| | >>> This barcode software has multiple printing options, you can directly print to Avery label or other label paper, or insert the barcode images to Excel or Word then print, or export each barcode image to a file, then use them on document edition or image editing software and printing. |
| | >>> This barcode generator software can create all type of 1D or 2D barcode, including QR code and ISBN barcode for book. |
| | >>> On each barcode label, it can print one barcode and one text title, the barcode label can print as horizontal or vertical, it can print barcode labels to Avery label or common A4 paper use all type of printer, it support all types of barcode format, the printed barcode label can read by all barcode scanner / reader. If you want to print bulk of barcode labels with a serial sequence number, this barcode program can automatic create these barcode numbers. |
| | >>> It is suggest to use self-adhesive label paper to print barcode label, but it is also ok to print barcode on common office use Al, B5, etc. printing paper, the barcode labels can be pasted up to the products, or be pasted up to the printed form, invoice, purchase order etc. If your current using IT manage system do not support barcode printing, you can use this program to print some separate barcode labels, then paste up them to the printed forms, reports, so that your old system have the barcode function, this way can also reduce the amount of self-adhesive label paper and reduce the cost. |
| | >>> The printed barcode labels can be read by all type of barcode reader / scanner, the QR code can also be read by the mobile phone too, this is useful for factory or business manage. It is a low cost bulk barcode labels printing software. |
| | |
CNET Recommand Software:
<1> PowerPoint Viewer 2007 - From Microsoft.

>>> PowerPoint Viewer 2007 lets you view full-featured presentations created in PowerPoint 97 and later versions. This
viewer also supports opening password-protected Microsoft PowerPoint presentations. You can view and print
presentations, but you cannot edit them in the PowerPoint Viewer 2007.

<2> PDF ReDirect - From EXP Systems.

>>> PDF ReDirect is a fast, free, and easy-to-use PDF creator. It has no restrictions, no watermarks, no spyware, no adware,
and no pop-up advertisements. Features include encryption, full merging and PDF preview. Available in English,
Deutsch, Portugues, Czech, Espanol, Francais, Norwegian, Nederlands, Italiano, Chinese, and Japanese.

<3> Apache OpenOffice - From The Apache Software Foundation.

>>> Apache OpenOffice is both an open-source product and a project. The product is a multiplatform office productivity suite.
It includes desktop applications such as a word processor, a spreadsheet program, a presentation manager, and a
drawing program, with a user interface and feature set similar to those of other office suites. Apache OpenOffice also
works transparently with a variety of file formats, including those of Microsoft Office. Localizations of Apache OpenOffice
are available in 27 languages, with more being constantly added by the community. Apache OpenOffice runs on Solaris,
Linux (including PPC Linux), and Windows. Written in C++ and with documented APIs licensed under the LGPL and SISSL
open-source protocols, Apache OpenOffice allows any knowledgeable developer to benefit from the source.

<4> iVMS-4500 for Windows 10 - From Hangzhou hikvision digital technology Co., Ltd.

>>> iVMS-4500 mobile client software, which is designed for the mobile phone on the basis of Windows Phone 8.0, can be
used to remotely monitor the live video from embedded DVR, NVR, network camera, network speed dome and
encoder via wireless network, play back record files and realize PTZ control as well.

<5> Wordpad - From Microsoft.

>>> WordPad is a basic word-processing program that you can use to create and edit documents. Unlike Notepad,
WordPad allows you to include text with formatting-such as italic, bold, and underline-as well as graphics.

<6> Kural Tamil Software (Tamil) - From KuralSoft.

>>> Kural Tamil Software is a keyboard manager that helps to input Tamil directly in all Microsoft Windows Applications. It
can be used with MS Office, Open Office, Google's Docs & Spreadsheet, GMail, Facebook, Wordpad, Notepad, Internet
Explorer, Google Chrome, Adobe products and many more applications. And also helps to chat in Tamil using Yahoo,
Google Talk, MSN and Facebook chat clientso.
COPYRIGHT (C) EasierSoft Ltd. 2005-2019
cs@easiersoft.com